24/02/16 06:30
Woohoo! We are into 2016 and the first whisky I am launching for the new year shall be from a reputable distillery in Islay. I'm proud to announce my 2nd Islay whisky in the range will be Caol Ila. It might be a young whisky but the taste will do its talking.


Caol Ila 2006/2015, 9yo, 51.2%, 11th Release, 109 bottles only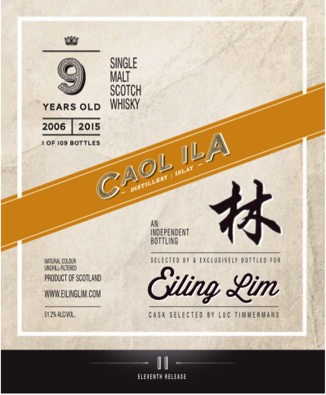 Colour: Pale yellow

Nose: Minerals, green apples, smoked fish, salty sea breeze, dry seaweed, zest of calamansi, quite medicinal with a farmy note.

On the Palate: Starts oily, licorice, sea saltiness, white pepper, long lingering chewy finish. The whisky is pure that you could define the taste without any wood that masks the whisky.


This whisky is definitely a winner and beats many other older whisky.

Reserve a bottle now at info@eilinglim.com
22/02/16 13:25
After a long spell of silence, finally I'm releasing my 10th Release which is an absolutely stunning Glenlossie 1992. This is a very rare opportunity to be able to buy such a beautiful Glenlossie. Not a very famous distillery but the taste of this whisky will tempt you for more. And also this time I decided to do something totally different. It's my 1st time releasing a Blended Malt which is also known as Vatted malt but due to regulations, I cannot name it as such. It was pure luck to chance upon the cask of Blended Malt. It contains Old Highland and Speyside malts from the 70's, 80's & 90's that are vatted together in a sherry cask to produce a smooth and old-style whisky lingering experience. This is what I call a super delicious NAS with a reasonable price for the quality you get.

Glenlossie 1992/2015, 23yo , 51.1%, 10th Release, 100 bottles only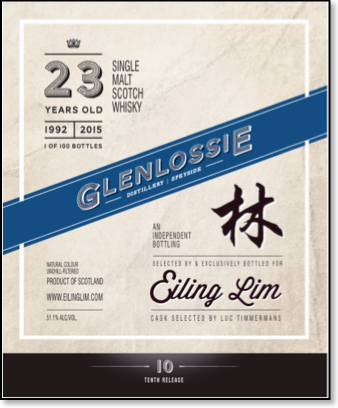 Colour: Pale yellow
On the nose: It's not easy to identify the notes at first, some dried hay, dry grassy notes, green fruitiness like fresh green apples, malt sweetness from malted barley, pencil shavings, a touch of wet marble and a faint of white pepper.
On the palate: You get a blast of aroma that tingles all senses, and then the sensation peaks, spicy notes, you can feel that the green comes through, extreme purity, minerality, super long and lingering finish.
THIS IS GLENLOSSIE.